Having worked with sewing machines for over 10 years, I've helped many customers sort out their stitch quality problems. These problems usually include thread looping either top or bottom side of the fabric, bobbin thread getting pulled to the top side of the fabric (or vice versa), thread bunching up and 'nesting', skipped stitches, uneven stitch quality, thread breakages, jamming and more.
Well, if you're having trouble with your stitch quality I'm pleased to tell you that 99% of the time these problems are really easy to solve by following a few simple steps.
Check You're Threading Your Machine Correctly
I know this goes without saying but I'll say it anyway - make sure your sewing machine is threaded exactly according to the manual. Take care to ensure the presser foot is in the raised position whilst threading (this allows the thread to freely slot between the tension discs), and that the thread goes through the thread guides and take-up lever in the correct direction. Also, make sure the bobbin is inserted in the correct orientation and that the trailing thread goes into the bobbin tension mechanism according to the manual.
Beginners often have trouble with threading and think their new machine is a dud. Let me tell you it is incredibly rare for a brand new sewing machine to be problematic out of the box. Threading problems don't just affect beginners though. Often, when someone upgrades their machine they thread the new machine in the same way they threaded their old one. There are quite often subtle differences in threading that can lead to all sorts of strange issues, such as poor stitch quality or the thread cutters not working correctly etc. If I had a pound for every time I hear "I've been sewing for 40 years and this machine doesn't work properly" I'd probably have retired by now.
If you're still struggling I suggest searching on your machines model number on Youtube for a threading guide.
Change Your Needle Regularly
A blunt or damaged needle is the number one culprit for poor stitch quality and can lead to any number of stitch problems, including skipped and uneven stitches and thread shredding. How regularly should you change the needle you might ask? I'd recommend changing it after every large project. Sewing machine needles are relatively cheap, so keep a stash and replace them regularly. Remember, even though a needle can look fine, it can be very slightly bent so don't just rely on your eyes - swap it!
When changing the needle be careful not to let it drop inside the machine as it's perfectly aligned to do just that when you're loosening the needle screw. A great tip is to place a piece of paper under the foot before loosening the needle clamp screw.  Also, make sure that when inserting the new needle that you insert it in the correct orientation (usually the flat side of the shank facing away from you) and that you push it up as far as it will go. Not doing so can lead to a number of stitch quality problems, plus it could also strike the bobbin case or bend the needle threader (if your machine has one).
Use the Right Needle
Using the right needle for the right job is very important for stitch quality and many beginners are unaware that different types of needle should be used for different types of fabrics, thickness's of threads and sewing techniques. For lots more info see our article 'how to choose the right sewing needle'.
Use Good Quality Threads
Over time threads can dry out, become brittle and deteriorate so don't be tempted to use that box of threads that grandma gave you 20 years ago. I'd also avoid cheap threads from supermarkets and eBay as these can cause stitch problems, thread shredding, and lint build-up. A good quality thread makes all the difference. My recommendation would be Gutermann thread which comes in a large range of colors and types and has very little lint relative to other threads, so you won't need to clean your machine as often. For most projects, Gutermann Sew-All thread will be perfect, but if you prefer natural fibers then 100% cotton or 100% silk will be the answer. Top tip - keep your thread out of direct sunlight as this can lead to drying out, fading and becoming more brittle.
Set Tension Correctly for Different Fabrics
Sewing with tricky fabrics deserves an article all of its own (watch this space), but we've got a few tips to help you on your way. A thick fabric will need a larger stitch size and a slightly looser top tension, whereas lightweight fabrics should be okay with the normal tension set at around 5. It is always a good idea to try out your stitch and tension on a scrap or off-cut of fabric you intend to use before commencing sewing your project, using the same amount of layers that you will use during construction.
If your thread is pulled tight on the underside and not forming an even stitch then (counter-intuitively) it's usually the top thread tension that's wrong. Sometimes very lightweight fabrics such as sheers can get dragged down into the machine so it's a good idea to use a straight stitch plate.
Also, remember to let your machine do the fabric feeding. Your hands are there to simply guide the fabric. Don't be tempted to push the fabric from the front or pull the back of the machine whilst you're sewing as this will certainly lead to uneven or skipped stitches.
Maintain Your Sewing Machine
Keeping your machine well maintained not only helps keep your stitch quality tip top, but it also has the added bonus of making it last longer. When we say well maintained, we don't mean you have to get your screwdrivers out and strip it down!
*Disclaimer - always unplug the power from your sewing machine when performing any maintenance!
The following happens more often than we'd like! We receive a machine with a complaint of poor quality stitches or noisiness. Once it's on the workbench we remove the needle plate and pop the bobbin case out to be welcomed by a sea of fluff and lint. Don't be tempted to blow (this will only force the fluff inside the machine) - simply use a soft brush to tease the lint out. Try it - it's strangely satisfying! It's worth removing the stitch plate from time to time and gives the feed dogs and surrounding areas the once over with the brush. This solves all sorts of strange problems you might be having, from poor stitch quality to weird sounds. We generally recommend brushing out this area after every project to keep your sewing machine in great working order.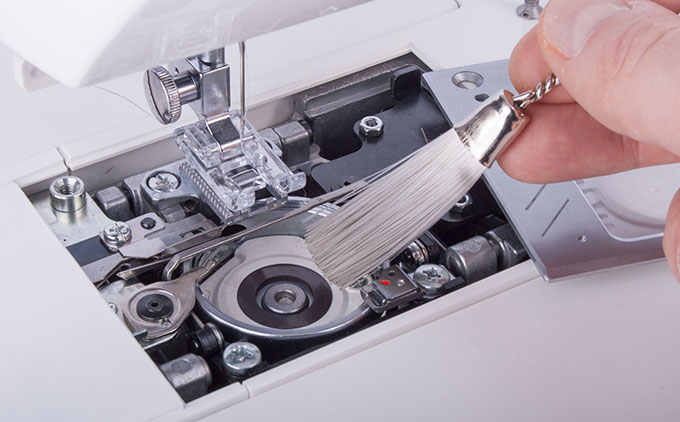 We've found some pretty weird and wonderful things inside sewing machines over the years. Amazingly, an old Singer was host to a dead mouse but the most common intruders are pins and needles. I once removed over 20 pins from a single machine (don't sew over pins!), which unsurprisingly had damaged the gears resulting in an expensive repair bill. If you do lose a pin or needle inside the machine, do your best to rescue it before it can cause damage. Take off the stitch plate and remove the bobbin case and fish it out if possible. It's always useful to have a pair of long tweezers for such situations.
What about recommendations for oiling sewing machines? Whilst this can be sensible if you know where to oil and how regularly (use only purpose sewing machine oil), using too much oil can attract loads of fluff and lint which isn't great for lubrication. Some machines even recommend against oiling so it's probably worth leaving this to the professionals during an annual service. Either way, it's best to consult your manual as they all have a section for maintenance and care.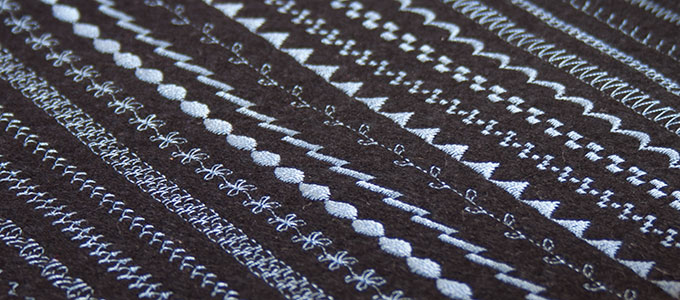 So there you have our top tips for maintaining a great stitch quality. 
Visit our SHOP for AMAZING ITEMS AVAILABLE.

Credits: https://www.sewessential.co.uk/blog/how-to-fix-sewing-machine-stitch-quality-problems/
ONLY FOR THE FIRST 500 READERS:
Use the coupon code SEWEASY15 at checkout to get 15% off all orders! 
Only for the first 500!