Using alternative fabrics such as leather, vinyl and plastic are sometimes scary.  We often worry about putting holes in the fabric, getting it "stuck" or even worse, chewed up by our machine.  Another big hurdle is how to pin it.  Well, I'm here to share my secret weapon and take the "scary" out of these speciality fabrics.  Behold, the Teflon Presser Foot.  (*Insert sounds of praise in the background.)
This Teflon coated foot can be used for both straight and decorative stitching on leather, vinyl, suede, or other fabrics that would stick to a regular presser foot.  The coated backing prevents the fabric from tugging against the foot and allows it to glide through the machine with ease.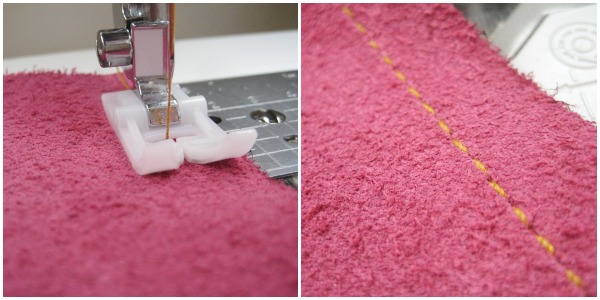 Use longer stitch length.  This will improve overall strength and reduce fabric tearing.
Consider using a heavier weight thread to reduce breakage and increase seam strength.
If your foot is still sticking, place a layer of tissue paper over the fabric/under the foot and stitch through. Tearaway after.
Needle size matters.  Use a specialty needle designed specifically for sewing these types of fabrics.
Pinning is not an option. Consider using standard office supplies such as

 

paper clips

 

and binder clips for thicker projects.
Let's take a look at this special foot in action.
The Teflon presser foot is also great for all home decor projects with a backer.  Think blackout drapery, coated cloth, plastic covers and more.  This foot will also make quick work of handbag handles, rain gear and the gripper fabric commonly found on the feet of children's pajamas and socks.
You can grab a Teflon presser foot here online.
So, if these fabrics have been scary to you in the past, let's grab our secret weapon and get stitching. The Teflon presser foot will make the process smooth as silk!